Hello from Haiti,
We were in the Dominican Republic when the earthquake hit the capital city of Haiti. We had seen pictures of the devastation on the Internet and on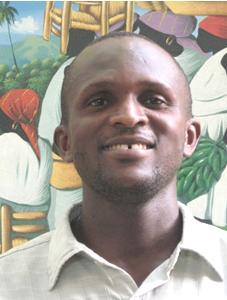 TV, but could not have imagined the magnitude of the devastation. Last night, as we were making our way back home on the only tap-tap (public transportation) we had been able to find, we passed in front of the crumbled Caribbean market. It was the largest grocery store in town. We could smell the stench of death. Many are still under the ruins.
Our assistant pastor, Gandy St-Hilarie, was also a student at the Church on the Rock Bible college. For the past 5 years, he has been a pillar of our church and of the sponsoring program. Further he was in charge of the feeding program's dining hall. He would visit and give the baptism preparation course. The day of the earthquake, he was attending a class at Bible college, along with Assenique, another young woman from our church. The building they were in caved in. Assenique was able to escape through a hole in the wall, but a cement pillar fell on Gandy. Bob Thornley, who is the construction project director, the church's youth, and others worked during three days and nights to remove those who were trapped under the collapsed building. Four were rescued alive but 18 were found dead. Gandy was the last one found. It was hard to recognize his face. He was buried the same day. Of all those around us that have died, Gandy is our greatest loss. He was a faithful servant. Michel and I have often said: « If only we could have others like Gandy in our church ». God will comfort us. Gandy is now with the Lord.
The collapsed Bible college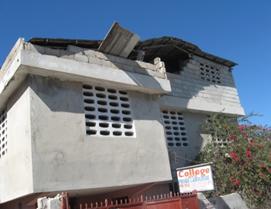 The third floor of the Pierre Larousse school (pictured to the right), where approximately 400 sponsored children attend, was destroyed. As many schools and colleges no longer exist, the school year may be cancelled.
As soon as the catastrophe hit, Audette, a nurse from our church, went out in the streets to take care of injured people. People are traumatized. They are afraid that other houses and buildings will fall. They sleep outside, in yards and in the streets. The stores are closed. It's difficult to find food. Gas is rationed. We have to save water because we don't have much and water trucks have stopped delivering water. Without water and food, it will be almost impossible to feed the children of our church.
In the coming days, we will send out more updates.  If you are interested in learning more, please log on to Bob Thornley's blog at: http://haitiexperiences.blogspot.com/
Thank you for your prayers!