The bulldozers began to destroy the damaged buildings that could not be repaired.   The loaders withdrew the rubble bringing to light more human bodies.  Some of the damaged schools are being repaired.  Most people whose houses are whole did not return to live in them, fearing another earthquake.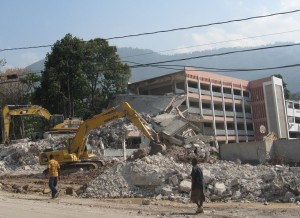 The Ministry of Education asked that schools reopen on April 6th.  As most of them suffered some damages, tents and tarps will serve as classrooms.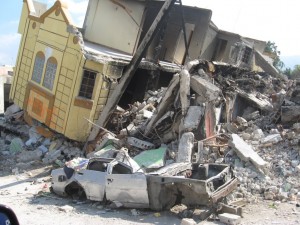 Since January 12th, we have had 130 aftershocks. As soon as the government will grant the permission to fix and to rebuild homes, we will start doing it in our area.  The authorities want the people to rebuild earthquake proof which was not the case before.  The poor construction of buildings is partly responsible for the great destruction we suffered.  ERDO has released funds to fix and rebuild houses and to provide tarps to needy people.  Thank you so much for your contribution.
Our new church's dining room that can sit 800 persons, is being painted and staircases are being completed up to the second floor by Pastor John Edwards and his team.
God opened the floodgates of heaven and poured out tons of rice and beans for us to give.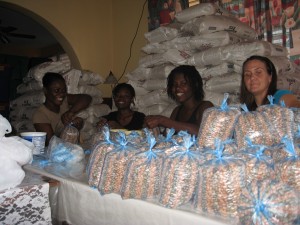 The Evangelical and Pentecostal Action from France offered us 2,000 Bibles when pastors Alain Porchel and Christophe Ensminger visited  with us last February.  In this time where people are looking for food, the most precious gift to give them is the Word of God.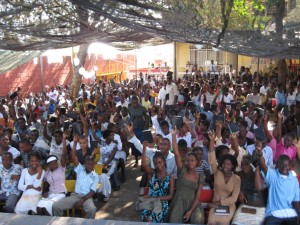 On the evening of the earthquake, Johanne, our young neighbour, layed down to sleep outside and she started praying.  As she was praying, she had a vision of an angel clothed in white holding a giant sledge.   As she questioned herself if it was a sign of the deliverance of Gandy, our assistant pastor trapped under the rubble or a sign of God's judgment, she fell asleep.  That night, she dreamed of the rapture of the church.
The Bible speaks about sledges. Isaiah 41 says: So do not fear, for I am with you; do not be dismayed, for I am your God; I will strengthen you and help you; I will uphold you with my righteous right hand.  (10) All who rage against you will surely be ashamed and disgraced; those who oppose you will be as nothing and perish. (11)
Do not be afraid, O worm Jacob. (14) See, I will make you into a treshing sledge, new and sharp, with many teeth. You will thresh the mountains and crush them, and reduce the hills to chaff. (15) You will winnow them, the wind will pick them up, and a gale will blow them away. But you will rejoice in the Lord.  (16)